The End of Spider-Man!
Villain:
Supporting Characters:
J. Jonah Jameson, Aunt May, Flash Thompson, Liz Allan, Betty Brant.
+ the doctor, trading card staff, glue manufacturers and Betty Brant's boy-friend
Guest Stars:
the Human Torch
First Appearances of...
Ned Leeds (un-named)
Mrs Watson (referred to throughout as Watkins, said to be Mary Jane Watson's aunt. Note her red hair, incidentally.)
Cameos:
The Green Goblin, Doctor Octopus, Kraven, the Vulture, Mr Fantastic, The Invisible Girl, the Thing, Iron Man, Thor, Giant Man, Captain America, the Wasp, Daredevil
Observations:
P4; "There's a new Peter Sellers movie at the drive-in tonight that I've been dying to see."
Doctor Strangelove came out in January 1964, so it is a stretch to call it "new". And why is Liz asking Peter to the drive-in when, er, neither of them have cars? Had Peter Parker gone, he might have found the movie's subtitle a little ironic. Amazing Spider-Man #18 could very well have been re-titled "How I learned to stop worrying and love being Spider-Man."
p12: "I never was the best loved guy in town…Khrushchev could beat me in a popularity contest"
(Changed to "Dracula could beat me in a popularity contest" in the UK reprint.)
Khrushchev was the leader of the Soviet Union when this comic was written: he had been succeeded by Brezhnev by the time it was published.
P 18: The police officer who finds Flash is the first person of colour to appear in Amazing Spider-Man! He's fairly obviously been drawn as a Caucasian and given a Hulk-like slate-grey complexion by the colourist, but it's a small move in the right direction.
P20: Peter Parker drops his Spider-Man costume into the waste-bin in his bedroom. When Stan Lee rehashes this story in Spider-Man #50, Parker leaves the costume in a trash-can on the street. It's fairly petulant to keep throwing your toys in the bin.
P21 "He's calling me the biggest phony since the Cardiff giant" The Cardiff Giant was a supposedly fossilized human, "discovered" in Cardiff New York in 1869 and exhibited by P.K Barnum. So "biggest fraud since the Cardiff giant" means "biggest fraud of the century".
P22 "So far as we know, this is the first time in history that an adventure hero had no actual fight with any foe."
This is sheer bloody nonsense. One looks in vain for fight scenes in silver age Supergirl stories; issues of golden age Superman fly past without fight scenes, because there was no-one strong enough to challenge the Man of Steel. (Action Comics #4 is about Superman rescuing Lois from an out-of-control train.) And in any case, Spider-Man's confrontation with Sandman is to all intents and purposes a fight scene (albeit a very unusual one): Sandman is shown throwing punches at Spider-Man and Spider-Man is shown dramatically dodging them.
Failure to Communicate
Page 20: Peter Parker finds Aunt May in a wheelchair (in a purple bathrobe and pink nightshirt) at the bottom of the stairs. He goes upstairs, and throws his Spider-Man costume away. According to the caption "The next morning..." he comes downstairs, finds the wheelchair empty, and is surprised that May is walking around by herself (in the same dressing gown).
This means that either
a: He expected her to sit in the wheelchair all night
b: He expected her to push herself to her bedroom, put herself to bed, get up the next morning, push the wheel chair back to the hall, but didn't know she could walk
c: They are paying a full time night nurse, not otherwise mentioned.
and also
d:
Her bedroom is downstairs.
It seems clear that Ditko intended Peter Parker to come home, go upstairs for a few minutes, and come down to find Aunt May testing her legs. If not for Stan's illogical "The next morning..." caption, we would take it that the costume remained in the bin for literally only a few minutes.
NOTE: Peter Parker leaves Flash berating Seymour in the schoolyard, and walks right into Betty and her new boyfriend, leaving the movie house. Granted, the boy says it is "still early", but isn't 3.30pm on a weekday a funny time for a date to finish? (But if it's much later than that, why is the doctor still making routine house calls when Peter gets home?)
Peter Parker's financial position.
Peter appears not to have sold any pictures since the huge $10,000 payout he struck in issue #13. Assuming he pays the rent/mortgage a year in advance, that left him with $8,000 in the kitty; but now he says he can't afford to pay for Aunt May's medication.
In 2016, American medical costs were so high that a simple procedure like fixing a broken bone could run to a year's wages; so presumably the Parkers have run through the $8,0000 paying for May's stay in hospital. (Although this happens "off stage" it appears that she had to have surgery again, which cost $1,000 by itself the last time she was ill.)
What is wrong with Aunt May?
In #17 we hear that May has had "another heart attack". The doctors tell Peter that she is a "very sick woman". In #18 she is "recovering from a serious operation". She has spent some time in hospital and spent several weeks recovering, but still feels tired, has dizzy spells (which Mrs Watson/Watkins treats with, er, cups of tea) and is not supposed to be left alone. The main treatment appears to be rest and medication.
Old Aunt May Fine. How you?
Aunt May jokes that she is "feeling like a sprightly 60 year old", which only makes sense if she is really a great deal older than that. Why not arbitrarily say she adopted Peter when she was 60, making her 77 in the current stories?
Are Aunt May and Peter Parker blood relations?
At the end of this story, Aunt May tells Peter "You mustn't worry about me so much. We Parkers are tougher than people think."
This remark strongly implies that Peter Parker and May are both Parkers. which would only be possible if Peter were the child of one of May's brothers. It would be highly unusual in the 1960s for a married woman to retain her birth-name; but Peter might very well have retained his — especially if Ben and May fostered him without legally adopting him.
Uncle Ben is never explicitly called "Ben Parker", but May is consistently referred to — by doctors, school secretaries, Betty Brant, J. Jonah Jameson and Doctor Octopus — as Mrs Parker. This makes it as certain as can be that she is May Parker by virtue of being married to Ben Parker. Peter Parker therefore has to be the child of one of Ben Parker's male siblings. (Admittedly, Jewish tradition and the laws of New York State permit marriages between first cousins, but that would be a bit of a stretch.)
I think our best bet is to say that May has been married to Ben for perhaps as much as 60 years; that she has come to think of herself as part of his clan; and therefore thinks nothing of referring to her and Peter as "we Parkers".
It's still an odd line; but any alternative explanation is odder.
Stan Lee will eventually write a feeble story, "The Parents of Peter Parker" which establishes that Peter is the son of Richard (brother of Ben) and Mary Parker. Much, much later, May Parker's birth-name will be given as "Reiley".
Before we start, I'd like you to pull your copy of the Silver Surfer #18 (first run) off the shelf.
Page 17 sets us up for a big fight with Black Bolt, but on page 18 the Surfer backs away from the battle, and delivers a monologue instead. Are you ready? This is Stan Lee at his most…like Stan Lee.
"In a world of madness…I tried to practice reason...
But all I won was hatred…and everlasting strife!
So I have done with reason..and with love or mercy!
To men they're only words to be uttered and ignored!
Since a fiendish fate has trapped me here with a hostile race in a nightmare world!
I'll forget my heritage..blot out my space-born ethic!
No longer will I resist this earthly madness!
No longer mine a lonely voice, pleading peace in a world of strife!
From this time forth the Silver Surfer will battle them on their own savage terms!
Let mankind beware!
From this time forth the Surfer will be the deadliest one of all!"
In case we miss the point, the bottom of the page promises: "NEXT: The Savagely Sensational New Silver Surfer!"
As a piece of characterization, this is makes no sense at all. The whole point of Stan Lee's version of the Surfer is that he is moralistic to the point of being pious: how can he suddenly decide to give up morality in the way someone might decide to give up smoking?
But this isn't really about characterization. The speech is a statement of editorial intention, tagged arbitrarily onto the end of a comic. The readers are tired of the Silver Surfer's endless sermons. Stan Lee's re-imagining of Kirby's amoral cosmic agent as a preachy jesus-freak has not worked out. So Lee gives notice that he is going to completely change the character. In fact, he's going to hand him back to Jack Kirby in the same condition he borrowed him in: alien, amoral, prone to declare war on the human race at a moment's notice.
Nothing comes of it. When we next see him, the Savagely Sensational New Silver Surfer casually mentions that he as "forsworn my vow to revenge myself on (humanity) for their reckless attacks on me", and everything carries on much as before.
Now: far be it from me to spoil a classic but isn't this precisely what happens in Spider-Man # 18?
Amazing Spider-Man #18 is the nexus-point of the conflict between Stan Lee and Steve Ditko. By this point, the two are barely on speaking terms. By Stan's own account, they had argued so much about Spider-Man plots that he told Steve to go away and make up whatever stories he wanted from now on. But it's not a happy arrangement. Stan Lee used to hype his own stories into the stratosphere, but he can't resist gently stabbing Steve's in the back.
"The whole plot was dreamed up by Sunny Steve… A lot of readers are sure to hate it so if you want to know what all the criticism is about, be sure to buy a copy!"
I suppose this is still hype, albeit hype of a slightly different kind. But it's a strange judgement to pass on one of the most universally admired stories of the Silver Age. "A lot of readers are sure to hate it."
Our working hypothesis has been that shy bespectacled Steve Ditko thinks that the Amazing Spider-Man should be mostly about shy, bespectacled Peter Parker, and that arrogant, boastful Stan Lee thinks that the Amazing Spider-Man should be mostly about arrogant, boastful Spider-Man. Last issue, Ditko made it as clear as can be what the comic was going to be about from now on. When our hero has to chose between being the Spider or the Man, he has no doubt about the answer: he is Peter Parker.
This issue we discover Peter Parker pushing Aunt May around the house in a wheelchair — and looking perfectly content with the situation. Peter Parker's path to happiness — his enlightened self interest — is
as
Peter Parker. In the Annual, when his powers went away, he felt nothing but relief. This issue, he announces that he's going forget all about being Spider-Man, be a good student, become a scientist, get married.
And this is a not un-sensible plan. You aren't morally obliged to fight crime just because you can stick to walls; any more than you are morally obliged to shoot balls through hoops just because you are 7ft tall. Even if we are thinking in terms of power and responsibility, then surely Peter Parker — who can whip up a set of web shooters in two panels and understand Curt Connors' lizard formula at a glance — can do much more good as a scientist than as a vigilante? It may be true that every time Spider-Man fails to catch a burglar, somewhere in the world an Uncle gets shot. But isn't it equally true that every minute a brilliant science student doesn't spend in Prof Warren's biochemistry class, someone's Uncle dies of cancer?
Ditko has written himself into a narrative hole. The logical conclusion of the story is for Peter Parker to recommit to being himself. But that would truly be the end of Spider-Man.
Amazing Spider-Man #17 ended with Peter Parker childishly throwing his costume across the room and wishing his powers would go away: the same place where Amazing Spider-Man #1 began. Amazing Spider-Man #18 could almost be seen as a recapitulation of that first story. Peter Parker tries various honest way of making money to pay for Aunt May's medication. He can't sell photos, because he is not willing to put his life on the line as long as Aunt May needs him as a carer. He tries to trade on his celebrity – selling his image for bubble gum cards — but since he apparently ran away from the fight, the Spider-Man brand is worthless. He tries to sell the formula for his web-fluid to the Peerless Paste Company, but his invention is of no value to anyone but himself. (Both these scenes are very like, and very much cleverer than, the cheque-cashing scene in issue #1 which Stan Lee is so proud of.)
A whole series of events make him lose confidence: Jameson spends the whole issue gloating; Betty won't even discuss what happened at the night club; he ends up phoning the police rather than catching some thieves; he is chased across Forest Hills by Sandman, resulting in little kids booing him.
The episode feels like a whole sequence of closed off plot paths. There is a 3 page narrative dead end about the Fantastic Four. The Human Torch really doesn't like Spider-Man — they feud like little kids — but he's fair-minded enough to see that he can't be a coward.
"Why would a fella whose risked his life a dozen times against the toughest odds suddenly turn yellow?? Remember…I've seen him in action…and he's one of the best."
"I'm inclined to agree with you, Johnny!" muses Mr Fantastic, wisely. "People don't change their basic nature without good cause!"
I love this scene so much! It's like a superhero locker room after a match: celebrities talking about other celebrities. (Oh dah-ling, you got simply marvelous notices!) The Torch uses his sky-writing shtick again, "Spider-Man, meet me at our last meeting place" But nothing happens; nothing comes of it. The Torch waits all night, but Spider-Man doesn't show.
Page 18 is a classic bit of Lee/Ditko melodrama. The panels are crowded, but Stan Lee's overwriting is just what the episode requires. The page may be crowded with text, but you get double and triple viewpoints and multiple levels of irony. While Parker soliloquizes "Things are getting worse, Aunt May needs more medicine by tomorrow, and I'm still broke" we overhear, in the background, Flash threatening another lad (very possibly Seymour) "Are you the wise-guy who said that even puny Parker could lick Spider-Man? Well?? Are you?".
And then along comes the sucker-punch. It's a bit like the phone call at the end of last issue, in that it comes from nowhere. It's also a bit like the moment when Aunt May pawns her jewelry in issue #1 — a final twist of the knife. Peter sees Betty Brant on a date with another boy.

Next month, he will be named "Ned Leeds"; the month after that, he will be written out; a year after that, he and Betty will get engaged. Many years in the future, he will become a super villain. But right now he's just a very charming and good looking fella whose only purpose in the story is to make Peter Parker feel even worse than he does already.

And the child-voice kicks in. It's almost like an accusing devil: "Face it boy! You've lost her! How did all this happen? Everything seems to be tumbling down around your ears! All your problems..all your tough breaks..are due to your being Spider-Man!! If you were just an ordinary Joe, Betty would still be your girl, and all the other worries you've got would just melt away!"
It's not quite true. Peter effectively lost Betty in issue #11, because he didn't have the moral courage to tell her he was Spider-Man. Aunt May isn't sick because her nephew is Spider-Man: she sick because she's very old. As Spider-Man, he can earn up to $10,000 in a single days work – how much could he make if he dropped out of school and became an intern in a science lab? (It isn't generally the case that expensive pharmaceuticals drop out of the sky and into the hands of "ordinary Joes"). If anything, the opposite is true: all of Spider-Man's bad breaks are due to him being Peter Parker.

But it feels close enough to the truth to destroy Peter Parker's self-confidence. He ought to give up being Spider-Man, which he's not very good at, and concentrate on being Peter Parker, which will make him happy. Head hung low, body slouched, he walks off into the distance. It's the same image that wound up issue #12; the same image that John Romita will swipe for the iconic cover of Amazing Spider-Man #50. It's the final frame of the comic: a clear signal that the story is over.
Except, obviously, it can't be.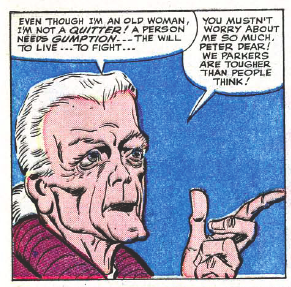 I think if you asked most comic book fans what happens in The End of Spider-Man they would say "Peter Parker quits being Spider-Man because everyone thinks he's a coward; but Aunt May's courage at dealing with her illness makes him recommit to the role." But this is in fact only a description of of the last three pages. Peter puts his Spider-Man costume in the trash half way down page 20, but retrieves it on page 22, partly as a result of Aunt May giving him a Human Torch style pep-talk about perseverance and never giving up.
This results in a vintage Stan Lee monologue:
"Well..maybe he's right!
Maybe it took Aunt may to teach me something I should have known!
Only a weakling quits when the going gets tough!
Sure I've had my share of bad breaks! Who hasn't??
But I've been wasting too much time in self-pity!!
Well, I'm done with that from now on!!
Now, there's nothing to stop me from being Spider-Man again!!
Aunt May has enough gumption for both us us!
I won't have to worry about her any more!!
As for J. Jonah Jameson, before I'm through he'll be eating his words about me!!
Fate gave me some terrific super-powers, and I realize now that it's my duty to use them…without doubt…without hesitation...!!
And that means Spider-Man is going into action again!
I'll fight as I've never fought before!!
Nothing will stop me now!!
For I know at last that a man can't change his destiny…and I was born to be…Spider-Man!!!"
The speech doesn't make a whole lot of sense. Peter Parker hasn't quit out of weakness; he's made a positive, informed decision to be a scientist rather than a superhero. If it was only Aunt May's sickness keeping him from being Spider-Man, then he hasn't made any kind of moral decision at all: he was simply having a sabbatical until she recovered or (god forbid) died: now she's better he can go back to work. And what difference the medicine makes, I couldn't say idea: it wasn't his dual identity that was stopping him from paying prescription charges.
But the really striking thing is how amoral the speech is. He doesn't say that as Spider-Man, he can help people, or fight crime — and he certainly doesn't mention Uncle Ben. He talks about impersonal forces: "FATE gave some terrific powers...it is my DUTY to use them… A man can't change his DESTINY"
What is "fate"? It probably just means "whatever happens to you"; how your life was going to come out anyway, regardless of what you do. In classical mythology, the Fates wove the stories of people's lives: Oedipus married his mother because his Fate said that he had to. But Stan Lee uses it to mean "the personification of dumb luck". Fate kept drawing Peter Parker, Betty Brant and Doctor Octopus together in Philadelphia; fate gave the radioactive spider "a starring role in the drama we call life". (The Silver Surfer blames "fiendish fate" for trapping him on Earth.)
If Fate is the winding path your life is going to take, Destiny is where that path is going to end up: your ultimate destination. Some people will be kings and some people will be beggars, and that can't be changed. Fate made the spider bite Peter Parker: that bite made it his Destiny to be Spider-Man.
Spider-Man also thinks that it is his duty to be Spider-Man; or rather, that it is his duty to use his powers, and to use them non-reflectively "without doubt or hesitation". Duty is rather a different thing from responsibility, I should say. Everyone has a responsibility to use whatever powers they have wisely; but duty implies a particular obligation that one has incurred. But this is blindly circular. Peter thinks that he has to reimburse Fate for making him Spider-Man by, er, being Spider-Man.


Why doesn't Hamlet kill the King when the Ghost tells him to? Because if he did, the play would be very short. Why doesn't Peter Parker quit being Spider-Man when that would obviously be the right thing for him to do? Because if he did, this would be the final issue of The Amazing Spider-Man. Fate and destiny and duty are simply three more manifestations of The Plot. Ditko has written himself into a narrative dead end in which Spider-Man ceases to be Spider-Man. So the voice of The Plot intervenes, and says "Spider-Man must carry on being Spider-Man, because it is inevitable that he should carry on being Spider-Man."

Spider-Man's speech is, like the Silver Surfer's rant, a statement of editorial intent. It is the voice of Stan Lee over-ruling Ditko's proposed new direction. The readers are tired of Spider-Man's self-pity: Stan Lee promises to give them more of what they really want, namely – fight scenes.

It really is as simple and amoral as that.